THE HAZY MOON ZEN CENTER, LOS ANGELES, CALIFORNIA
The Hazy Moon Zen Center, a training center in Southern California, is directly descended from the late Hakuyu Taizan Maezumi Roshi, upholding the authentic lineage of living Zen Buddhism through committed personal practice and the opportunity to work with a genuine teacher. We offer daily zazen, weekly Dharma talks by our teacher, Nyogen Roshi, intensive retreats and regular classes to help you begin or refine your Zen practice.
THIS MONTH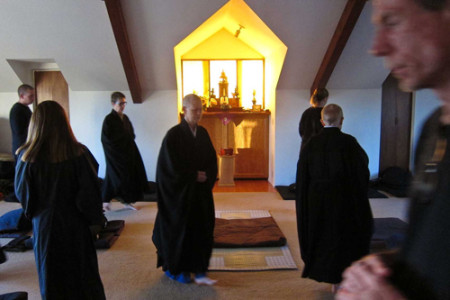 Beginner's Mind One Day Retreat, Rohatsu Sesshin, Year-End Sesshin, Fusatsu, Gay Men's Meditation Group, Meditation Classes
Join us for the Beginner's Mind One Day Retreat on Sunday, November 9; practice atonement with Fusatsu, November 13 at 7:30 pm; reserve your spot  for the Rohatsu Sesshin, November 28 to December 6; plan ahead for the Year-End Sesshin, December 26 to January 1; the Gay Men's Meditation Group meets most Sunday mornings, 10 am to noon; sign up for a Saturday morning meditation class; subscribe to our monthly newsletter; to register for programs or for more information about other events, contact us.
Voices of Zen (Video)
Watch Hazy Moon Student Talks and see the confidence and transformativeness of a living Zen practice:
Dying Without Fear (2:21)
In this student talk, Donin, a Buddhist Chaplain in training, relates her experience sitting vigil with a dying woman.
ARTICLES
Visit our Articles page to learn about the lives of students at the Hazy Moon. Some of the topics you'll find:
Hazy Moon, Clear Skies

A rainy day on the freeway near her home in New Orleans reminds Patrice Bucher what she has learned through her practice at the Hazy Moon: the skills she needs to make it through the occasional downpour without losing her way.
The Art of Zazen

In this timeless teisho on the fundamentals of Zen practice, Nyogen Roshi interweaves accounts of his own experience and Dogen Zenji's classical instructions to create a simple but astonishingly vivid portrait of what it means to do zazen.

Maezumi on Uji: Part Three (7:32)
"Please don't lose that very essential part of it," Maezumi Roshi implores us in this latest excerpt from his series of talks on Uji. "That is, how this very life of each of us is no other than the Genjokoan. Uji itself, see?"
Taking the First Step

Who says long-distance relationships can't work? Ben Hutchison, a young husband and father in Cincinnati who learned about the Hazy Moon through Karen Maezen Miller, participated in part of our summer training period and cemented his connection to our Los Angeles sangha.
Living Lineage

A collection of Hazy Moon students' reflections on the importance of particular figures in our lineage for their practice.  New this month: Don't Worry, by Roos Ben Ming Stamet-Geurs
P

aradise Lost and Found
A review of Karen Maezen Miller's Paradise in Plain Sight.
By Michael Isshin Spiller.