THIS MONTH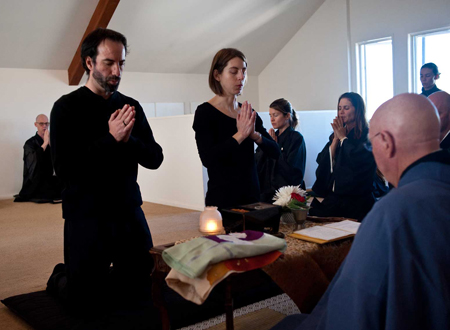 Jukai Gallery, Spring Weekend Sesshin, Fusatsu, Gay Men's Zazenkai, Meditation Classes
View a gallery of our recent double Jukai; join us for the Spring Weekend Sesshin, March 13 – 16; practice atonement with Fusatsu on Thursday, March 13 at 7:30 pm; the Gay Men's Meditation Group will hold a one day Zazenkai on March 23; sign up for a Saturday morning meditation class; to register for programs or for more information about other events, contact us.
Articles
Visit our Articles page to learn about the lives of students at the Hazy Moon. Some of the topics you'll find:

Ango Reflections
Do you have to be crazy to spend a month at a meditation retreat? On the contrary, Camille Dawu Whitney calls her month at our summer training period "luxurious" and even "decadent," full of subtle revelations about letting go and waking up.

Karen Maezen Miller, sensei, shares a key set of instructions given by Maezumi Roshi.

A Bodhisattva Never Hesitates
An old dog's last day at the beach becomes a moving reminder to follow your heart. By Mary Jotai Rosendale.
Continue to Articles.
QUANTUM ZEN
Articles and interviews on the intersection of modern science and Buddhadharma.

Tom Campbell, a professional physicist, has been at the forefront of a movement to shift the study of consciousness from the periphery to the center of modern scientific inquiry. Interview by Nick Shindo Street.

A Conversation with Dr. Robert Lanza
Audio excerpts from Dr. Robert Lanza's talk at the Hazy Moon Zen Center.

Beliefs and Brains
Michael Isshin Spiller finds inspiration in two compelling books, "My Stroke of Insight" by Jill Bolte Taylor and "Proof of Heaven" by Eben Alexander.
Continue to Quantum Zen