THE HAZY MOON ZEN CENTER, LOS ANGELES, CALIFORNIA
The Hazy Moon Zen Center, a training center in Southern California, is directly descended from the late Hakuyu Taizan Maezumi Roshi, upholding the authentic lineage of living Zen Buddhism through committed personal practice and the opportunity to work with a genuine teacher. We offer daily zazen, weekly Dharma talks by our teacher, Nyogen Roshi, intensive retreats and regular classes to help you begin or refine your Zen practice.
THIS MONTH

Hanamatsuri Ceremony, Jukai Gallery, Fusatsu, Pet Blessing, Meditation Classes
Join us for the Hanamatsuri Ceremony on Saturday, April 11 at 11 am; view a gallery of our recent Jukai ceremony; practice atonement with Fusatsu on Thursday, April 9 at 7:30 pm; plan ahead for our annual Pet Blessing ceremony, Saturday, May 2 at 12 noon; sign up for a Saturday morning meditation class; subscribe to our monthly newsletter; to register for programs or for more information about other events, contact us.
ARTICLES
Visit our Articles page to learn about the lives of students at the Hazy Moon. Some of the topics you'll find:
Far away.. and yet so close

Sangha member Angie Shinnyo Nickol shares what brought her to practice and what keeps her connected to the Hazy Moon, even though she lives almost 6000 miles away.
Forgetting the Self, Catching the Ox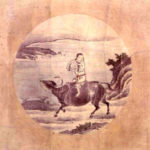 (6:39)
In this brief excerpt from his series of talks on the Ten Oxherding Pictures, Maezumi Roshi summarizes the importance of the pictures as a representation of Zen practice as the ongoing process of forgetting the self.
Living Lineage

A collection of Hazy Moon students' reflections on the importance of particular figures in our lineage for their practice.
The Art of Zazen

In this timeless teisho on the fundamentals of Zen practice, Nyogen Roshi interweaves accounts of his own experience and Dogen Zenji's classical instructions to create a simple but astonishingly vivid portrait of what it means to do zazen.
Voices of Zen (Video)
Watch Hazy Moon Student Talks and see the confidence and transformativeness of a living Zen practice:
Hazy Moon priest Russell Ryozen Martin talks about what being a Zen priest means–or doesn't mean–for him. His words ultimately lead to the conclusion that his role or purpose is simply to do zazen, the only way he knows to tame his mind and prepare to die well.
QUANTUM ZEN