THIS MONTH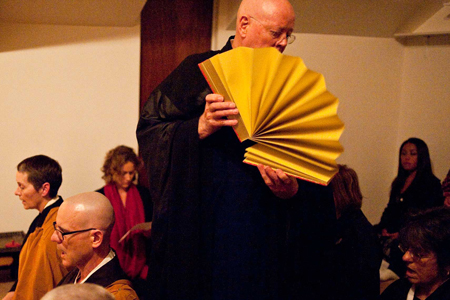 New Year's Eve Meditation, Rohatsu Sesshin, Year-End Sesshin, Meditation Classes
Join us for the Rohatsu Sesshin, November 29 – December 7; practice atonement with Fusatsu, Thursday, December 19 at 7:30 pm: reserve your spot for the Year-End Sesshin, December 26 – January 1; start the new year on a positive note with our New Year's Eve meditation; sign up for a Saturday morning meditation class; to register for programs or for more information about other events, contact us.
New Year's Eve at the Hazy Moon (Video)
New Year's Eve is a festive affair at the Hazy Moon. Witness the revolving of the sutras as the abbot taps each member of the congregation on the shoulder while the chanting reaches a dramatic crescendo.
Continue to New Year's Eve meditation.
QUANTUM ZEN
Articles and interviews on the intersection of modern science and Buddhadharma.

Tom Campbell, a professional physicist, has worked on some of the most complex military systems in the U.S. arsenal. Since the early 1970s, he has also been at the forefront of a movement to shift the study of consciousness from the periphery to the center of modern scientific inquiry. His "theory of everything," which he develops at length in his book "My Big TOE", encompasses not just the foundation of individual experience but also phenomena like spiritual healing and remote viewing.
Paradigm Shifter: An Interview with Robert Lanza
Hazy Moon sangha member and journalist Nick Shindo Street interviews the author of Biocentrism, a book that Nyogen Roshi describes as mirroring his experiences in the practice of zazen as closely as anything he has encountered in a modern writer.
Continue to Quantum Zen
Articles
Visit our Articles page to learn about the lives of students at the Hazy Moon. Some of the topics you'll find:

The First Noble Misunderstanding
What's the real reason we meditate? An excerpt from Hand Wash Cold, by Karen Maezen Miller, sensei.

My Home Away from Home (Or, Why I Traveled Halfway Across the World to Take Jukai)
By Roos Ben Ming Stamet-Geurs
"When I stepped into the Hazy Moon for the first time, I took a leap of faith I had never before thought possible."

Coming to Sesshin
A quick, illustrated guide to attending your first sesshin.
Continue to Articles.