THIS MONTH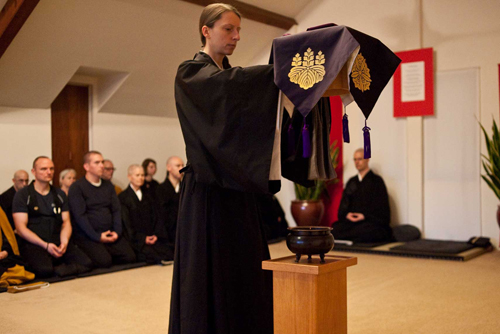 Shuso Hossen Gallery, Fusatsu, Fall Weekend Sesshin, Gay Men's Meditation Group, Meditation Classes
View a gallery of our recent Shuso Hossen events; practice atonement with Fusatsu on August 14 at 7:30 pm; plan ahead for the Fall Weekend Sesshin, Sept 18 to 21: the Gay Men's Meditation Group meets Sunday mornings from 10 am to 12 noon; sign up for a Saturday morning meditation class; subscribe to our monthly newsletter; to register for programs or for more information about other events, contact us.
ARTICLES
Visit our Articles page to learn about the lives of students at the Hazy Moon. Some of the topics you'll find:

Maezumi on Uji: Part Two (23:35)
"All dharmas are Uji," Maezumi Roshi tells us in the second installment in his series of talks on Dogen Zenji's commentary on Uji–"being-time." What does Maezumi Roshi mean when he says that everything is being-time? "Being us," he says, "being you, being me–that's Uji."
Living Lineage

A collection of Hazy Moon students' reflections on the importance of particular figures in our lineage for their practice.  New this month: Don't Worry, by Roos Ben Ming Stamet-Geurs
P

aradise Lost and Found
A review of Karen Maezen Miller's Paradise in Plain Sight.
By Michael Isshin Spiller.
Interview with Shelley Mushoku Cao

Nearly everyone has an unlikely story of how they came to Zen, but at the Hazy Moon, no one's story covers more miles than Shelley Mushoku Cao's.