THE HAZY MOON ZEN CENTER, LOS ANGELES, CALIFORNIA
The Hazy Moon Zen Center, a training center in Southern California, is directly descended from the late Hakuyu Taizan Maezumi Roshi, upholding the authentic lineage of living Zen Buddhism through committed personal practice and the opportunity to work with a genuine teacher. We offer daily zazen, weekly Dharma talks by our teacher, Nyogen Roshi, intensive retreats and regular classes to help you begin or refine your Zen practice.
THIS MONTH

Ango Opening Gallery, Fusatsu, Summer Ango, Shuso Hossen Sesshin, Meditation Classes
View a gallery of our recent Ango Opening ceremony; practice atonement with Fusatsu on Thursday, June 4 at 7 pm; Summer Ango continues through June and July and culminates with the Shuso Hossen Sesshin, July 19 to July 25; sign up for a Saturday morning meditation class; subscribe to our monthly newsletter; to register for programs or for more information about other events, contact us.
Shuso Statement 2015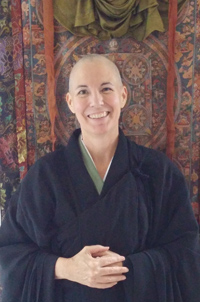 "How foolish to measure time by the rate or the date of gravity.
In no time at all, it's always that time again."
–Karen Maezen Miller, Hand Wash Cold
As robes rustle, catch, flow…then catch and flow again, Sangha is the cool water of relief for this thirsty traveler.
Near or far, if it were not for you I wouldn't be here.
Please know that I soak up every drop of your support and encouragement.
With all sincerity and in deep Gassho,
Donin
Maka Hannya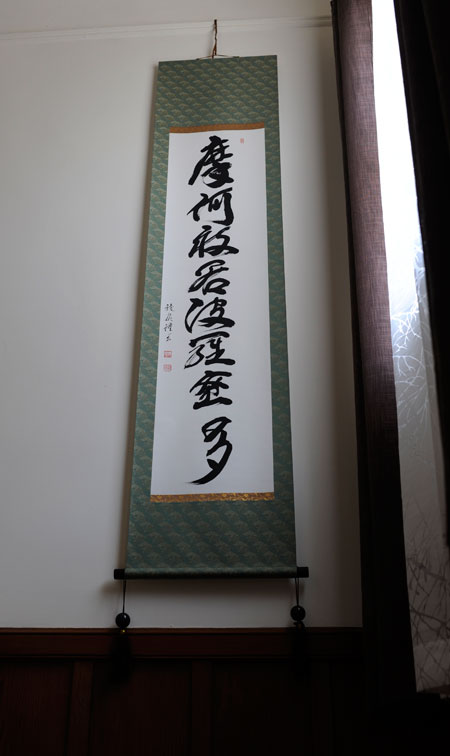 To mark the start of our summer Ango, we have placed a cherished gift at the head of the stairway in our Sangha house: a calligraphic rendering of the Maka Hannya. This treasure was created and sent to us by Yamamoto Roshi, Dharma brother to Maezumi Roshi and successor of Koryu Roshi as Abbot of Hannya Dojo in Japan.
We are honored to represent Maezumi Roshi's lineage both in our practice and by showcasing this generous artistic endowment from Yamamoto Roshi. In deep gassho.
ARTICLES
Visit our Articles page to learn about the lives of students at the Hazy Moon. Some of the topics you'll find:
Radiant Illumination

 (5:45)
"Our lives as we are–that's the radiant illumination of time." This (audio) excerpt from Maezumi Roshi's teisho on Uji captures both his reading of Dogen Zenji and his essential message to Zen students. "Standing, sitting, moving around, lying down … the way that the self arrays itself is the form of the entire world. Everything in the whole world is nothing but my nature."

Ango Reflections by Camille Dawu Whitney
Do you have to be crazy to spend a month at a meditation retreat? On the contrary, Camille Dawu Whitney calls her month at our summer training period "luxurious" and even "decadent," full of subtle revelations about letting go and waking up.