THIS MONTH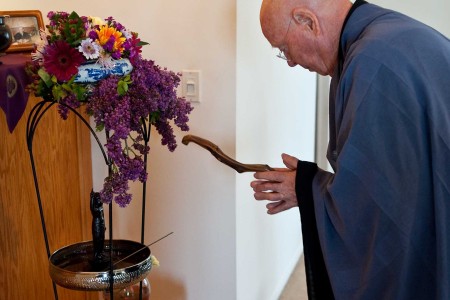 Hanamatsuri, Fusatsu, Gay Men's Zazenkai, Pet Blessing, Meditation Classes
Commemorate Shakyamuni Buddha's birthday with Hanamatsuri on Saturday, April 5 at 11 am; practice atonement with Fusatsu on Thursday, April 10 at 7:30 pm; the Gay Men's Meditation Group will hold a one day Zazenkai on Sunday, April 20; plan ahead for our annual Pet Blessing, Saturday, May 3; sign up for a Saturday morning meditation class; to register for programs or for more information about other events, contact us.
Articles
Visit our Articles page to learn about the lives of students at the Hazy Moon. Some of the topics you'll find:

A collection of Hazy Moon students' reflections on the importance of particular figures in our lineage for their practice; Keizan Zenji: The Mother of Soto Zen by Karen Maezen Miller; Teachers by Julie Honmei Snider; Words of Encouragement by Kim Donin McDonald.

Photo/essay by John Mujo Fritzlen

What draws a new member to the Hazy Moon? "This year I decided to make a bigger commitment to my practice. I had been dabbling in Zen, but I didn't have faith in the teachings or take my practice seriously. Seeing living examples of practice definitely instilled faith in me."
Continue to Articles

QUANTUM ZEN
Articles and interviews on the intersection of modern science and Buddhadharma.
Paradigm Shifter: An Interview with Robert Lanza
Hazy Moon sangha member and journalist Nick Shindo Street interviews the author of Biocentrism, a book that Nyogen Roshi describes as mirroring his experiences in the practice of zazen as closely as anything he has encountered in a modern writer.

Tom Campbell, a professional physicist, has been at the forefront of a movement to shift the study of consciousness from the periphery to the center of modern scientific inquiry. Interview by Nick Shindo Street.

Is There Any Reason For a Zen Practitioner to Read About Science? By Ralph Shikan Levinson
"When scientists teach us that everything is interdependent, entangled, and that seeing an object as permanent and solid is an illusion–is that very different from the Diamond Sutra, which exhorts us not to be trapped by the illusion of finite personhood, a soul?"
Continue to Quantum Zen