THE HAZY MOON ZEN CENTER, LOS ANGELES, CALIFORNIA
The Hazy Moon Zen Center, a training center in Southern California, is directly descended from the late Hakuyu Taizan Maezumi Roshi, upholding the authentic lineage of living Zen Buddhism through committed personal practice and the opportunity to work with a genuine teacher. We offer daily zazen, weekly Dharma talks by our teacher, Nyogen Roshi, intensive retreats and regular classes to help you begin or refine your Zen practice.
THIS MONTH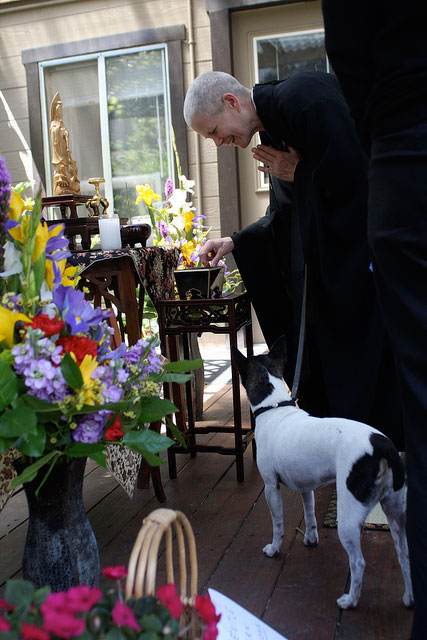 Pet Blessing Ceremony, Hanamatsuri Ceremony, Fusatsu, Spring Weekend Sesshin, Gay Men's Meditation Group Zazenkai, Meditation Classes
Join us for our annual Pet Blessing Ceremony, Saturday, April 23, 12 noon; commemorate Buddha's birthday with the Hanamatsuri Ceremony, Saturday, April 9, 11 am; practice atonement with Fusatsu on April 7 and 21 at 7:30 pm; the Gay Men's Meditation Group will hold a one day Zazenkai, Sunday, April 17, 9 am – 5 pm; reserve your spot for the Spring Weekend Sesshin, Apr 28 to May 1; sign up for a Saturday morning meditation class; subscribe to our monthly newsletter; to register for programs or for more information about other events, contact us.