THIS MONTH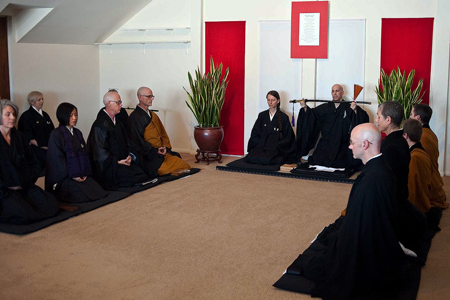 Shuso Hossen, Shosan, Tea Ceremony, Fusatsu, Gay Men's Meditation Group, Meditation Classes
View a gallery of our recent Ango Opening & Shuso Entering ceremony; practice atonement with Fusatsu on Thursday, July 10, 7 pm; the summer Ango training period culminates with the Shuso Hossen sesshin July 21-26; Shosan (Public Dokusan) Thursday, July 24, 7 pm; Tea Ceremony, Friday, July 25, 7 pm; and Shuso Hossen on Saturday, July 26, 10:30 am; the Gay Men's Meditation Group meets Sunday mornings from 10 am to 12 noon; sign up for a Saturday morning meditation class; to register for programs or for more information about other events, contact us.
Maka Hannya Haramita Shingyo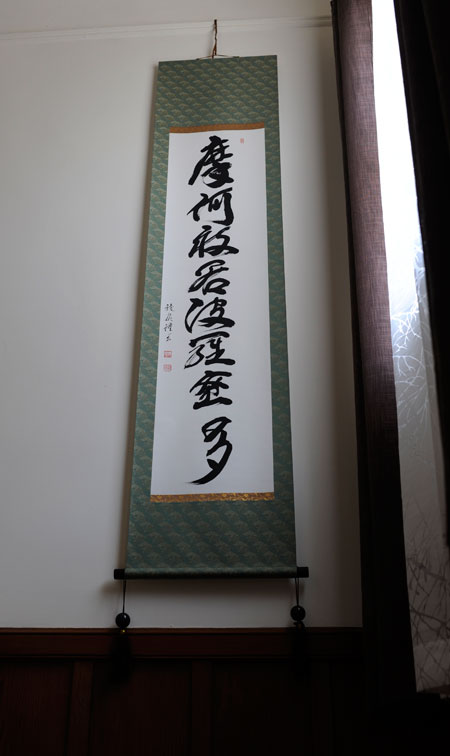 To mark the start of our summer Ango, we have placed a cherished gift at the head of the stairway in our Sangha house: a calligraphic rendering of the Maka Hannya Haramita Shingyo. This treasure was created and sent to us by Yamamoto Roshi, Dharma brother to Maezumi Roshi and successor of Koryu Roshi as Abbot of Hannya Dojo in Japan.
We are honored to represent Maezumi Roshi's lineage both in our practice and by showcasing this generous artistic endowment from Yamamoto Roshi. In deep gassho.
Head Trainee 2014 
Angie Shinnyo Nickol

"I feel very honored to be assigned as head trainee for this Ango. I am eternally grateful for this privilege…"
Voices of Zen (Video)
Watch Hazy Moon Student Talks and see the confidence and transformativeness of a living Zen practice:
One Moment to be Kind (3:32)
In this video, Luis Chudo Escobar recounts his efforts to overcome his aversion to dogs after his wife adopted a dog named Nori.
ARTICLES
Visit our Articles page to learn about the lives of students at the Hazy Moon. Some of the topics you'll find:
P

aradise Lost and Found
A review of Karen Maezen Miller's Paradise in Plain Sight.
By Michael Isshin Spiller.

Maezumi on Uji: Part One (29:37)
In this first installment in a forthcoming series of talks on Uji–"being time"–Maezumi Roshi relates Uji to Dogen Zenji's intention in the Genjokoan and the whole of the Shobogenzo.