William Nyogen Yeo Roshi
Nyogen Roshi is a successor of Maezumi Roshi, who brought Japanese Zen to the United States in 1956 and was widely considered the foremost Zen master of the 20th century. Nyogen Roshi was the last of only a dozen students authorized by Maezumi Roshi to succeed him as a teacher. Nyogen Roshi studied with Maezumi Roshi for 27 years.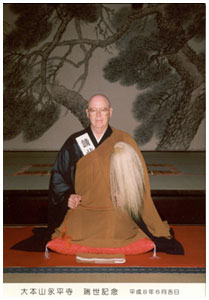 Zuise at Eiheiji, 1996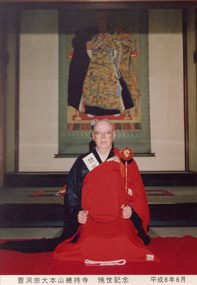 Zuise at Sojiji, 1996
The Venerable Koun Taizan Maezumi Roshi
Honorary founder of the Hazy Moon Zen Center, our teacher's teacher, and one of the most significant forces in Zen Buddhism of our time, Maezumi Roshi was born in 1931 to the Kirigaya-ji temple-household of Baian Hakujun Kuroda Roshi, one of the leading figures in Japanese Soto Zen. Maezumi Roshi was ordained as a Soto monk at age 11 and studied Oriental Literature and Philosophy at Komazawa University.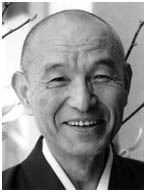 "As we practice together sincerely, we become increasingly aware that such terms as internal and external cannot be separated.  This awareness is actually the growing realization of the real harmony which underlies everything."
– Taizan Maezumi Roshi