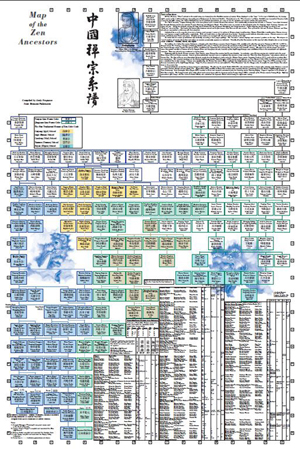 "Living Lineage" is a collection of Hazy Moon students' reflections on the importance of particular figures in our lineage for their practice.
What do we mean by lineage? The idea includes the names on the formal lineage chart hanging by the front door in our Sangha house, characters in the koan collections we use, past Buddhas whose names we chant during service on Saturday, Chan masters like Ta-hui and Hongzhi whose work Nyogen Roshi has recommended to us.
There's overlap in this description of lineage and also some omission. To this company we could add Zen artists and poets (like Stonehouse, for example) as well the Tibetan teachers with whom some of our Dharma brothers and sisters have studied.
Each of us has texts we've turned to time and again for inspiration. Many of us have made pilgrimages to Japan, China or India to visit sites associated with Dharma teachers we revere. These experiences, along with deep gratitude for the teaching we have received, are the raw material for the short reflections that follow.
_______________________________________________________________________________________________________

By Roos Ben Ming Stamet-Geurs
_______________________________________________________________________________________________________

Keizan Zenji: The Mother of Soto Zen
Karen Maezen Miller
_______________________________________________________________________________________________________

Julie Honmei Snider
_______________________________________________________________________________________________________

Kim Donin McDonald