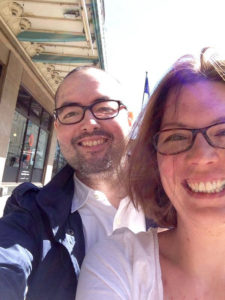 Kenji Stamet (left) and Roos Ben Ming Stamet-Geurs in Paris earlier this year.
DON'T WORRY
By Roos Ben Ming Stamet-Geurs
I'm not the type who is generally drawn to Top-Ten's or How-To's, and when I stumbled upon Karen Maezen Miller's "10 Tips for a Mindful Home," I didn't think that her list would eventually save my life. Years later I know most of it by heart: Wake with the sun. Wash your bowl. Sleep when tired.
As a mother of two baby boys, learning the point of pointlessness resonated with me the most. I for sure could forget about sleep when tired. Back then I wasn't practicing Zen yet, but I was looking for a start and decided to take up these words as my mantra. With each round of vacuuming, wiping spills off the floor and changing dirty diapers, I returned to the point of pointlessness: My work would never be finished.
After cancer made its entrance into our household, I had to clean extremely meticulously. Then start over, always start over. Everything needed to be done with the utmost attention; otherwise, it could literally be the end of one of our lives. The huge responsibility that was forced on me was actually an opportunity to deepen my practice. Of course I was (and sometimes still am) freaked out by the continuous swarm of bacteria, but at the same time I knew I had to deal with what was right in front of me. And because Maezen's words had slowly worked their way into my system, I was able to turn any obligatory task into an act of love.
In the end a seemingly trivial online list lead me to the Hazy Moon Zen Center. Although the point of pointlessness will without any doubt be a life-long lesson, the words that I carry with me nowadays are the ones that Nyogen Roshi spoke during my Jukai ceremony. After Roshi gave me my Dharma name, he read the poem of the 12th-century Chinese nun Ben Ming, after whom he named me. I didn't know the poem at the time and upon hearing the first lines, I was struck by its beauty. When Roshi came to the middle part of the poem– "Don't worry about a thing! Don't worry about a thing!"–my world stopped turning right at the very spot. I remember bursting into tears, being completely struck by the truth. I heard it so clearly that any concept of time was absent and I felt an immediate connection to Ben Ming herself that has not left me since that day.
In deep gassho,
Ben Ming
______________________________________________________
Related articles:
My Home Away from Home (Or, Why I Traveled Halfway Across the World to Take Jukai)
By Roos Ben Ming Stamet-Geurs