New Year's Eve Meditation, Los Angeles, 2013/2014
ShareThis
For anyone in Los Angeles who is looking for an alternative to the usual televised ball-dropping event, we offer a New Year's Eve Meditation that is open to the public — as recommended in the Los Angeles Times' "Where to Spend New Year's Eve" column, 2011.
To participate in the New Year's ceremony, arrive at 10:30 pm, then revel with us in the revolving of the sutras as we welcome the New Year.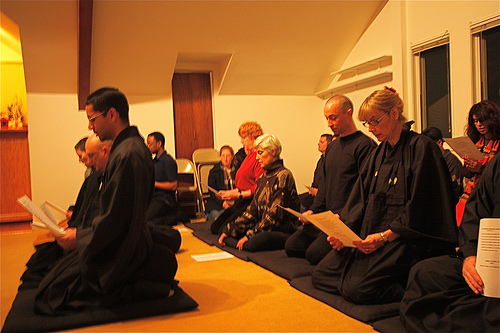 Fusatsu, derived from a word meaning "observance" in sanskrit, is a ceremony of atonement. In this elegant ritual of bowing and chanting, practitioners renew their vows. Everyone is invited to participate. Afterwards, the lights are turned down and we meditate through midnight in complete silence while the neighborhood explodes around us in fireworks and celebration. Immediately following the meditation is the New Year's ceremony, including the revolving of the sutras.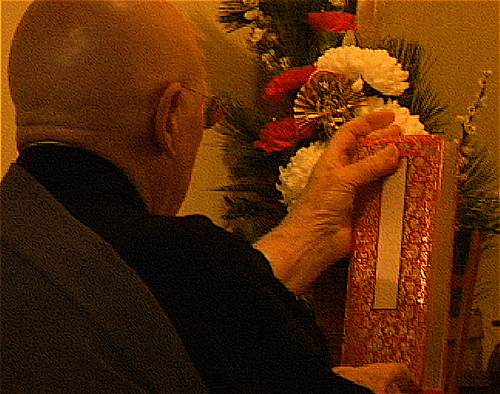 The Sutras–precious devotional texts that were traditionally kept on scrolls–are housed in special wooden box in our zendo. In this ceremony, Nyogen Roshi (our teacher) takes the texts from the box, fans them out and performs a special dance with them. At some point during the ritual he taps every member of the Sangha (congregation) on the shoulder with the Sutras. It's a very lively ceremony, involving special chants and drumming that reach a dramatic crescendo.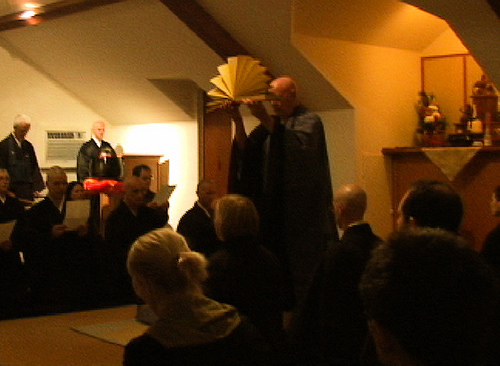 Finally, join us in our after-midnight celebration. This convivial event closes our Year-End retreat. Shitake soup, cookies, and cider are served to bring in the new year.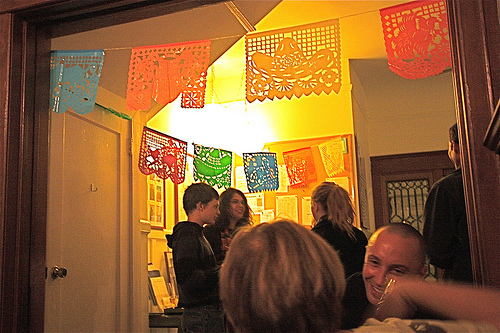 The protocol for the Zendo (meditation hall) is dark color clothing. No shorts. Please wear something comfortable for meditation. All black attire is preferred. Parking available in the driveway and on the street.
Visit our contact us page for map, and contact information.
Please call or email us in advance if you are planning to attend. A $15 donation is suggested.