Maezumi Roshi received Dharma Transmission through three lines of Zen, a rare achievement and contributor to the breadth and power of his teaching. As our ancestors, Maezumi's three teachers are embodied in the practice tradition at the Hazy Moon.
Hakujun Kuroda Roshi, 1898-1978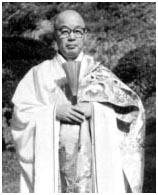 Kuroda Roshi, Maezumi's father, was a prominent Soto priest and 36th Abbot of Koshinji Temple in Otawara City, Tochigi Prefecture, Japan. He was also chief justice of the Soto Sect Supreme Court, which adjudicated internal matters within the Soto institution. As was customary in temple families, Kuroda Roshi ordained Maezumi at the age of 11. Kuroda Roshi gave Dharma Transmission to his son in 1955 after he completed Soto monk's training at Sojiji monastery.
Hakuun Yasutani Roshi, 1885-1973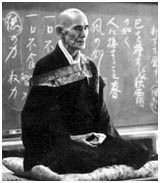 As a young child, Yasutani had presentiments that he would become a Zen priest. At age five he began training at a Rinzai temple. Throughout his youth he was trained at various temples but also became a schoolteacher and elementary school principal. His formal training resumed when he was 40, under the guidance of Harada Roshi, who had studied with both Soto and Rinzai masters. He received Dharma transmission from Harada in 1943, at age 58.
Believing that true practice was lacking in the Soto establishment, he formed an independent Zen organization oriented to lay practitioners called the Sanbo Kyodan. Although already a Zen priest and teacher in Los Angeles, Maezumi Roshi began studying with Yasutani in 1967, traveling frequently to Japan and hosting Yasutani in Los Angeles. He completed koan study under Yasutani and received inka, or Dharma transmission, from him in 1970.
Yasutani became well known in the West through the book, The Three Pillars of Zen, which contains his introductory lectures on Zen training. Among the first instructions in zazen ever published in English, his lectures are the basis of the introductory meditation classes taught at the Hazy Moon.
Koryu Osaka Roshi, 1901-1985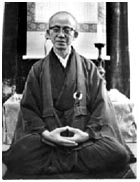 Koryu was a Rinzai teacher and successor of Joko Roshi, a reformer of Japanese Zen. Rejecting the deterioration of institutional Zen, Joko Roshi founded a lay Rinzai practice group based in Tokyo, the Hannya Dojo, with a training center on Mt. Fuji called the Hannya Fuji Dojo. Emphasizing the vitality and simplicity of the true Zen spirit, Joko Roshi asked that Koryu Roshi never ordain.
Departing with tradition, Maezumi's father sent his son to live and train with Koryu Roshi while a university student, studying koans in the Rinzai style. Maezumi continued his koan training with Koryu Roshi after arriving in Los Angeles as a Soto priest in 1956. Koryu Roshi began visiting Los Angeles for three months every year. He was revered by students for his powerful teisho and profound humility. In 1972, Koryu Roshi gave inka, or Dharma transmission, to Maezumi. Transmissions by these three masters—his father, Hakuun Yasutani Roshi and Koryu Osaka Roshi—confirmed Maezumi as an independent teacher and dharma successor in three separate lineages.