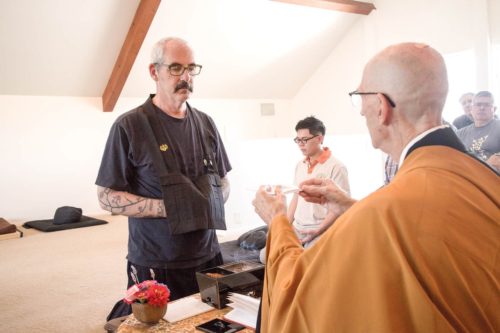 Years ago, after a decade of practicing law as a partner in a workaholic, intense, and very adversarial corporate New York law firm, I drastically shifted gears and took a job as General Counsel for a nonprofit social services organization. A major impetus behind this terrifying change—with its resulting 95 percent cut in pay—was a very special dog named Barney. Barney taught me how to love; caring for him opened up my life.
After another decade practicing nonprofit law for a national drug treatment organization—and after "Barney-Sattva" had departed this lifetime for the next—my husband (who fell in love with Barney before he fell in love with me) landed a tenure-track professorship in Los Angeles. I followed him out west and found my dream legal job as General Counsel for the Los Angeles County Museum of Art.
As it turned out, even the job of my dreams—which I still absolutely adore—was not enough to ease the tensions in my mind. I found myself growing increasingly frustrated by anxiety, anger, and insecurity reinforced by decades of practicing law in a competitive environment. This, along with a growing sense of dissatisfaction in my life outside of work, led me to explore meditation practice.
Unable to decide whether to study Zen or Tibetan Buddhism, I signed up for an introductory class at the Hazy Moon, which was the Zen center nearest my home. As it turned out, that class was led by Mujo Sensei, who has practiced extensively in the Tibetan Mahamudra lineage and has received transmission from Nyogen Roshi, Abbot of the Hazy Moon.
Almost without my seeing what was happening, a short and simple lesson in just sitting and counting my breath has evolved into practicing regularly in my home and with the Hazy Moon Sangha. This involvement also entails hearing Roshi give Teisho on Saturdays, extensive reading of Dharma, and practicing with Mujo's men's group on Sundays.
As my sitting practice evolves, I see my motivations and aspirations evolving as well. It has not been a linear path, and the longer I practice, the more my practice seems to be a part of my ordinary life and less intentionally driven toward some fantasy of transformation. Even so, I am pleasantly surprised when colleagues who don't know of my meditation practice remark that I've become friendlier and less confrontational and uptight.
I had been practicing Zazen for about six months when my husband and I were involved in a relatively minor motorcycle accident. Though his foot was badly cut, he declined an ambulance ride to the emergency room. But after the ambulance left, he decided he needed to go to the hospital. I noticed my habitual reactions kicking in: It's late; we'll be there for hours; the dog needs to be walked; I have a meeting in the morning; he's not really that hurt.
Once we got to the hospital, it was clear that he was not the ER's highest priority, so we settled in to wait. What to do? I just started to count my breath, to get quiet, to let things take their course. I think my husband noticed and understood, and instead of fanning the flames of our anxiety and impatience, we both kind of gave in. It was enough to sit quietly and just be there together. And as I became calmer, I also became more aware of everything around us: the bustle of the hospital staff, the sounds of other patients and their suffering, the world that surrounded us with its energy and urgency and life.
Caring without controlling. Perhaps this is what "patience" and "compassion" really mean—just being in a situation however it unfolds. I can't help but think of the world of acceptance and love that Barney initially opened in me, and how it now seems to be coming full-circle.
I know from my practice that I cannot re-create these experiences or insights. What I can do is try to see that every moment is an opportunity to be awake.