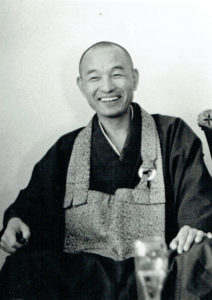 Honorary founder of the Hazy Moon Zen Center, our teacher's teacher, and one of the most significant forces in Zen Buddhism of our time, Maezumi Roshi was born in 1931 to the Kirigaya-ji temple-household of Baian Hakujun Kuroda Roshi, one of the leading figures in Japanese Soto Zen.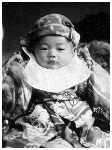 Maezumi Roshi was ordained as a Soto monk at age 11 and studied Oriental Literature and Philosophy at Komazawa University. He later completed his Soto monk's training at Sojiji monastery and in 1955 received Dharma Transmission from Hakujun Kuroda Roshi. He later received teacher approval (Inka, and the title Roshi) from both Hakuun Yasutani Roshi and Koryu Osaka Roshi and thus became a Dharma successor in three Zen lineages, a rarely encountered achievement.
Maezumi Roshi came to Los Angeles from Japan in 1956 to serve as a priest at the Soto Headquarters, Zenshuji. In 1967 he established the Zen Center of Los Angeles and dedicated it to his father as the honorary founder.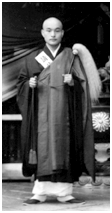 For the next 28 years Roshi worked tirelessly to lay down a robust foundation for the development of Zen Buddhism in the west. He ordained 68 priests and gave lay precepts to over 500 people. His clearly articulated goal was to cultivate western Zen teachers so that the Buddha Way might flourish in its natural western expression under their guidance. He transmitted the Dharma to 11 successors, a group he designated the White Plum Asanga, named in honor of his father Baian Hakujun (whose name means white plum).
Maezumi Roshi also established six temples in the west and formally registered them with Soto Headquarters in Japan as well as The Kuroda Institute for the Study of Buddhism and Human Values. The Kuroda Institute, founded in 1976, is an educational organization that promotes Buddhist scholarship. It is particularly well regarded for its East Asian Series published by the University of Hawaii, which includes works by some of the foremost Buddhist scholars in the United States.